On April 4, 2023, a massive fire broke out at a clothing market in Dhaka, the capital city of Bangladesh. The fire burned through the Bongo Bazar market, which is one of the busiest precincts of the city, and engulfed three adjacent markets as well. Hundreds of firefighters worked tirelessly for over six hours to extinguish the blaze, which caused significant damage to the market and surrounding areas. Although no deaths were reported, at least 11 people were injured, including five firefighters.
According to Main Uddin, the head of the fire department, the enthusiastic crowd that had gathered at the site and the high winds made it difficult for the firefighters to combat the fire. Moreover, Bongo Bazar, which is built mainly from timber and tin to house hundreds of small stalls, was designated a fire risk in 2019 and has been issued warning letters since then.
As news of the fire spread, tempers flared, with some shop owners hurling rocks at the firefighters, angered by the time it took to control the blaze. To maintain order and prevent looting, around 450 police officers were deployed to the site.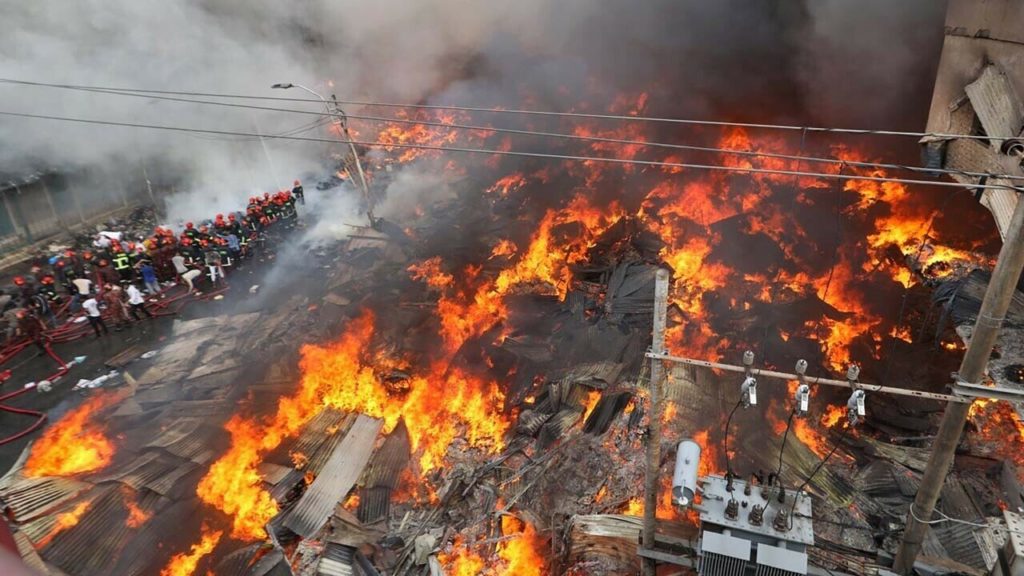 Bongo Bazar, built in the 1980s, is a popular destination for cut-price Western fashion brands such as Tommy Hilfiger. The market is home to thousands of clothing shops in one of Dhaka's oldest neighbourhoods, near the city's most prestigious university and the national police headquarters. Many of the clothes sold in Bongo Bazar are produced in the city's garment factories but do not meet the export standards.
The market's owners expressed their distress at the fire's devastating impact on their businesses. They said they left them destitute just before Eid, the Muslim festival marking the end of Ramadan and the country's biggest religious celebration. One owner stated, "I borrowed 1.5m taka ($14,200) to buy Eid clothing. I've lost everything."
Bangladesh has seen numerous building fires and explosions caused by gas cylinder leaks, faulty air conditioners, and bad electrical wiring. Last month, at least 23 people were killed in a central Dhaka market explosion blamed on a bad gas line. Additionally, a fire and subsequent explosions at a container depot in the port city of Chittagong last year killed more than 50 people.
In the wake of the Bongo Bazar fire, authorities must prioritise fire safety measures to prevent similar incidents from happening in the future. Buildings must be constructed with fire-resistant materials, and regulations for fire safety must be strictly enforced. The government should also educate the public about fire safety and emergency protocols.